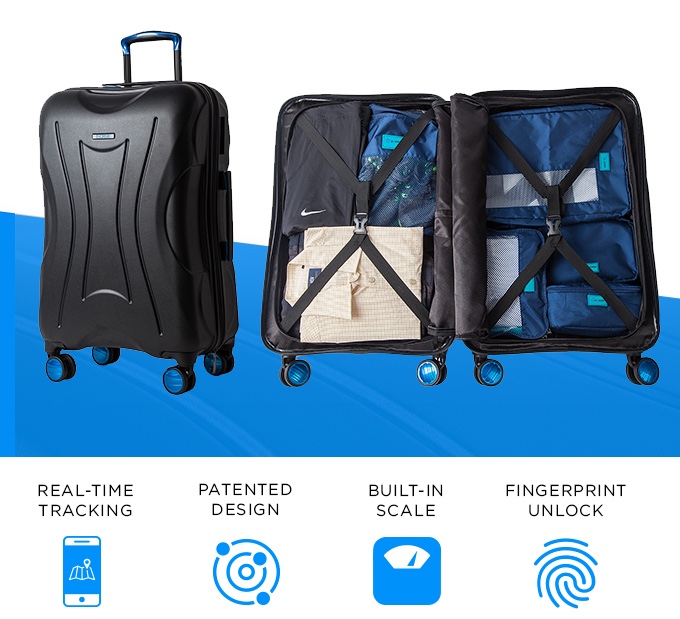 E-CASE is the only smart check-in bag with real GPS and a no lift built-in scale. With airlines now charging for carry-on, check your bag and rest easy with E-CASE!
Featured on: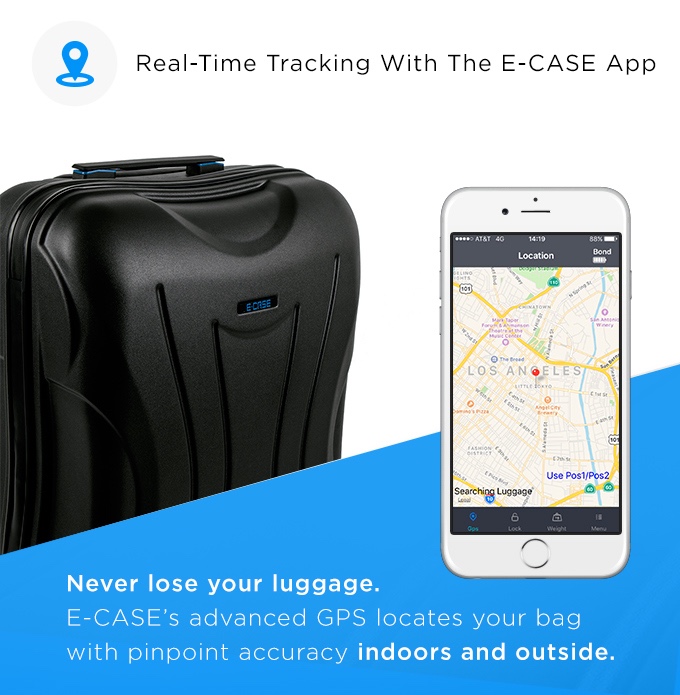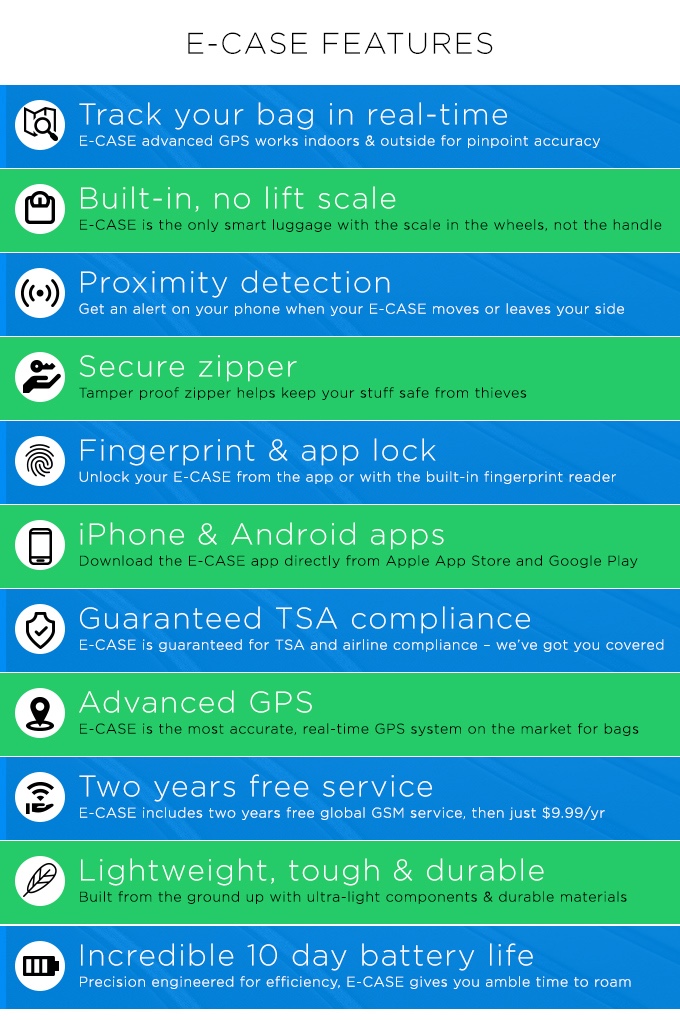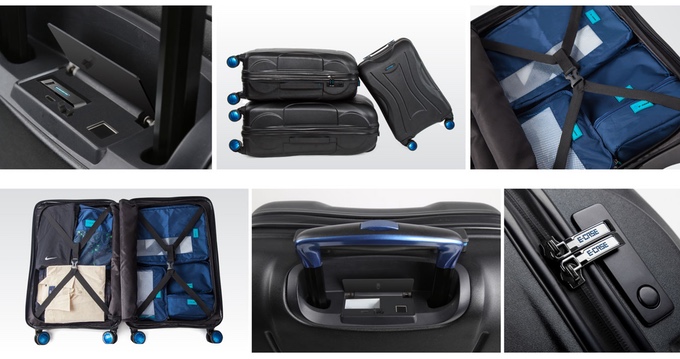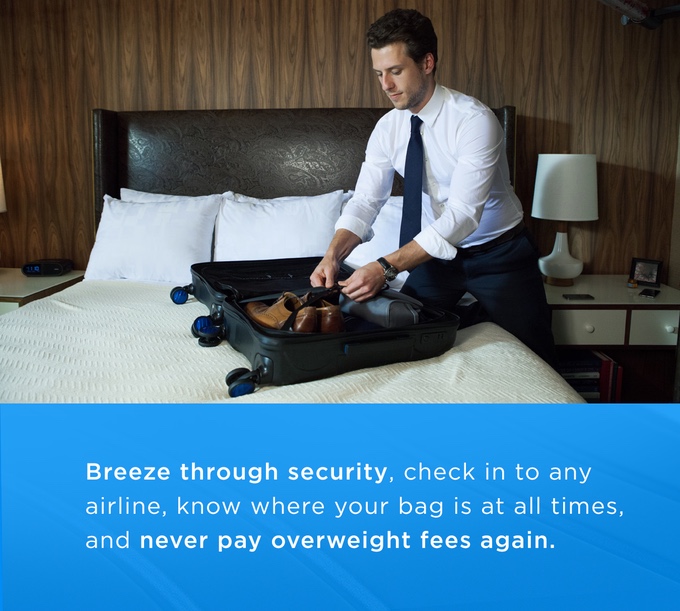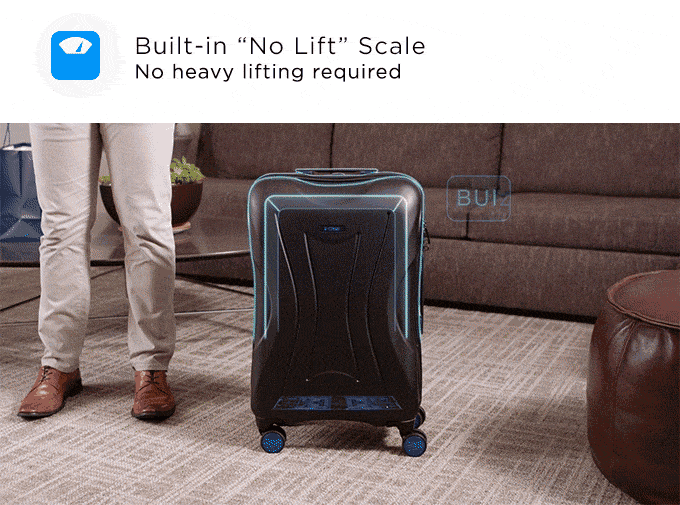 Never worry about overweight baggage fees again. E-CASE includes an innovative scale built into the wheels. No need to lift the bag. Just open the app, check your bag's weight in pounds or kilograms, and go!

Did someone mistake your luggage for theirs? Or perhaps a thief ran off with it. Not to worry! E-CASE will send you an alert when it has strayed outside the range of your Bluetooth signal. Then use the real-time GPS signal to track down.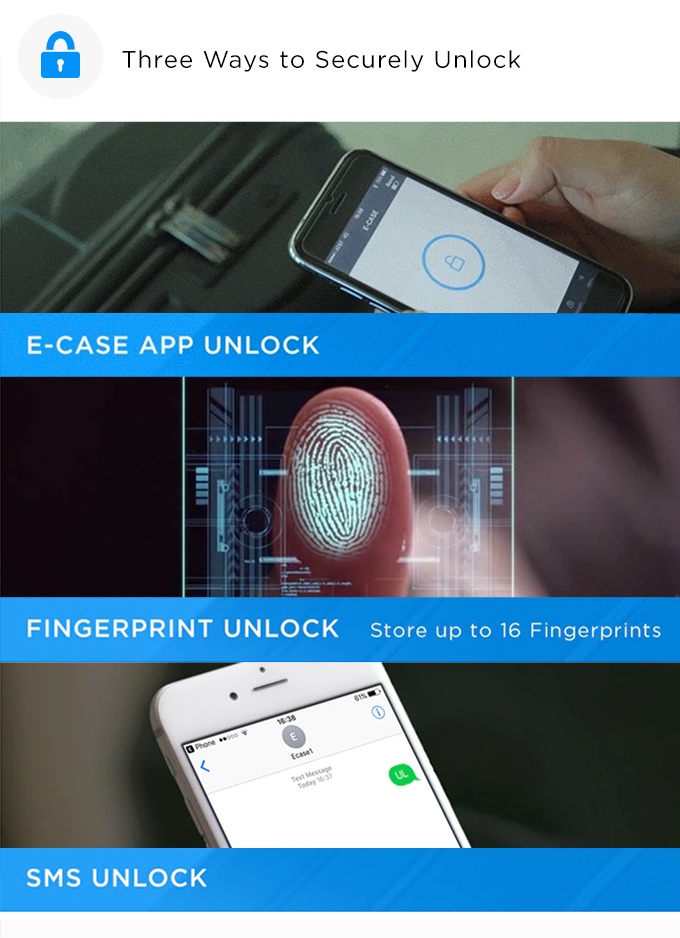 E-CASE also has an automatic re-lock feature that can be used for security checkpoints. Leave your E-CASE temporarily unlocked. When the latches are opened and re-inserted, your E-CASE will automatically re-lock. You can also set it to auto-lock after a certain amount of time.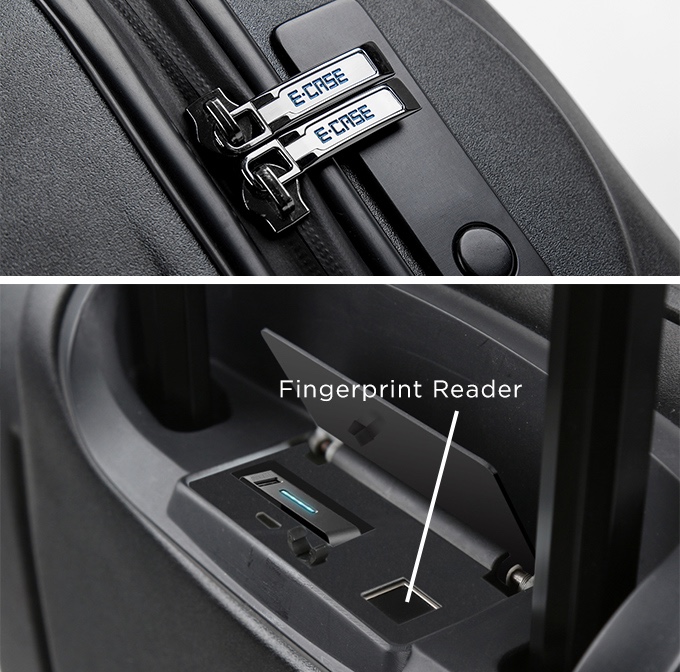 SMART LUGGAGE JUST GOT A WHOLE LOT SMARTER
Tough, durable, and surprisingly lightweight, E-CASE is the ONLY check-in bag with real-time GPS tracking and a built-in scale.
E-CASE was globally patented in 2012 for its innovation in GPS and digital scale technology (Patent #US2015/0160069A1). It's taken many years to finalize product development and manufacturing. But now it's ready!


Almost all other smart luggage on the market is carry-on, but lets get real. If you stow your bag in the overhead bin, chances are you probably won't lose it. E-CASE takes smart luggage from a novelty to a necessity by offering two larger check-in sizes, as well as a carry-on case.
All E-CASE's feature the same high-quality GPS, scale, and locking technology.

BUILT BY A WORLD-CLASS TEAM
E-CASE is a USA company with a global team from Japan, Australia and Hong Kong. Lawrence, the CEO and co-founder, has over 20 years experience manufacturing and shipping luggage for these top brands and many more:


The electronic engineering team joined E-CASE from three of the world's leading mobile technology companies:



E-CASE was designed in Japan by the talented industrial designer, Sonoda Hiroshi.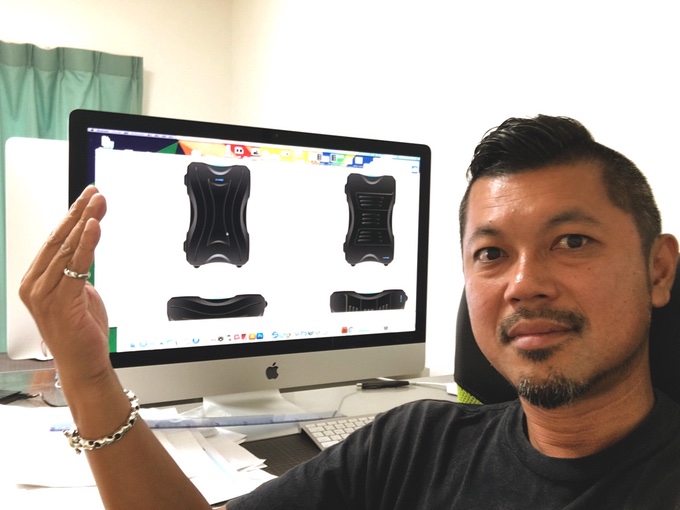 Most of the smart luggage on the market today use a separate tracking device – a cell tower based positioning method. This means positioning occurs once, when the luggage arrives at the airport. You can tell your bag has landed at a specific airport, but if it gets sent to the wrong carousel, you're out of luck.


HAVE YOU EVER WONDERED...
What would it feel like to know exactly where your luggage is BEFORE you even get off the plane?
E-CASE is the only smart luggage that uses a unique combination of real GPS, GSM, WiFi, and Bluetooth signals, allowing you to...


WHY REAL GPS MATTERS
With the exception of Bluesmart (which only offers a carry-on) all other smart luggage uses GSM-GPRS. In order to comply with airline regulations, the GSM signal is disabled before takeoff and resumed after landing to get a one-time location update.
But, what happens WITHOUT real GPS...
If the baggage did not get onto a plane? The "resume on landing" feature does not trigger and the baggage disappears forever with the tracker.
If the bag is lost at the destination airport? The one-time positioning update only tells the user that the baggage arrived at the airport, but no further information is available as to the exact location.
That means if you cannot find your baggage on the carousel where it should be, then it disappears again and you're helpless even though you know the baggage arrived at the airport... somewhere.

E-CASE USES REAL GPS
E-CASE is the only smart check-in luggage that offers real-time mapping with pinpoint accuracy both indoors and outside.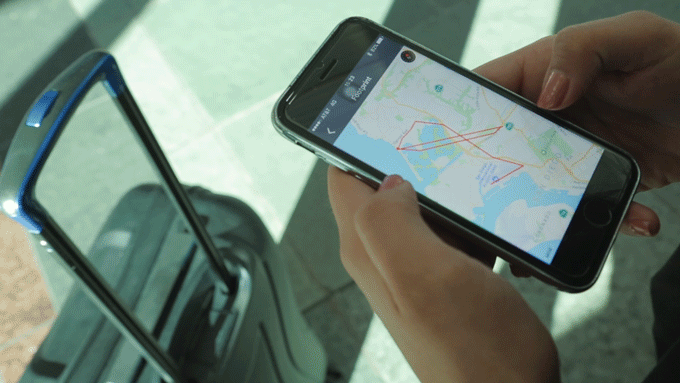 Follow the movement of your luggage similar to following a breadcrumb trail. Whether on the road or in the air, you'll be able to track the movements of your E-CASE in real time.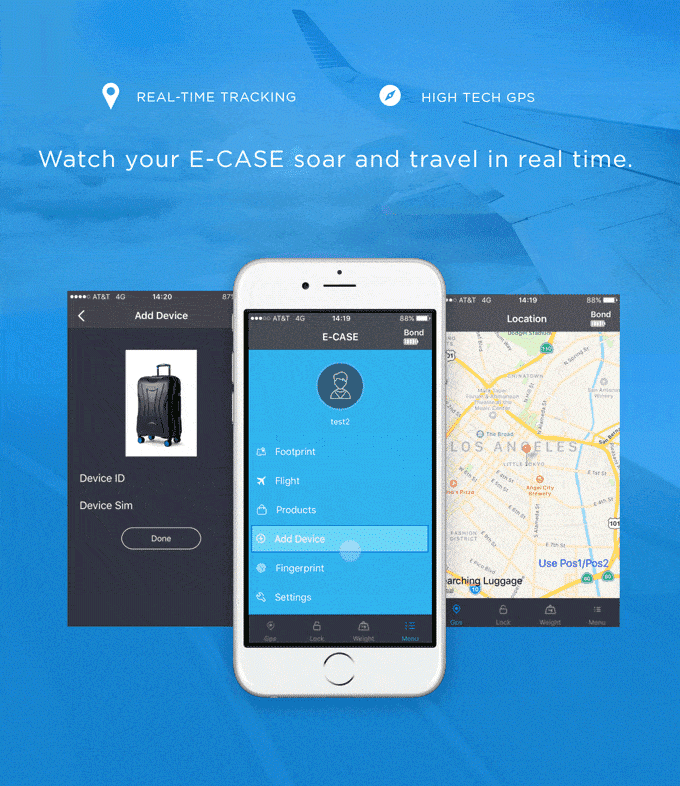 The location is constantly monitored via the GPS module. The tracking data is sent to the E-CASE app via global GSM signal when not in flight, making it fully compliant with airline regulations.
With E-CASE, you know exactly where your luggage is within the airport or anywhere on the planet. Just tell airline staff where to find it.... like a boss!

We've got you covered. E-CASE is TSA compliant and compatible with airline regulations around the world.
But you don't need to take our word for it...
If airport security or the airlines confiscate or disable your E-CASE, we'll repair or replace your bag at no charge.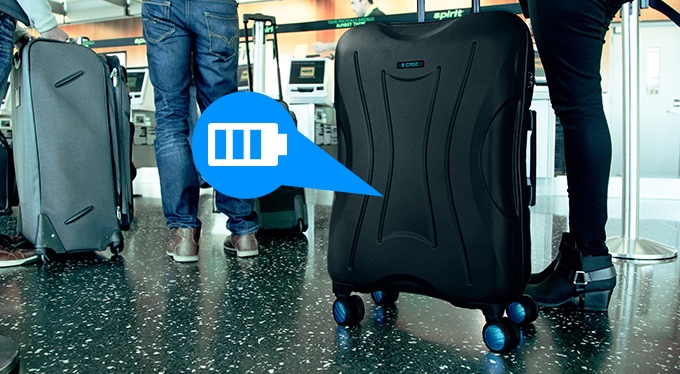 E-CASE uses cutting edge algorithms to make your user experience as effortless as possible. It will automatically adjust positioning frequency to conserve battery.
A light and vibration sensor lets the bag know when it is in the air, suspending the GSM signal automatically to comply with airline rules. This means that your E-CASE switches to sleep mode while in-flight to conserve power and awakens automatically when you need it.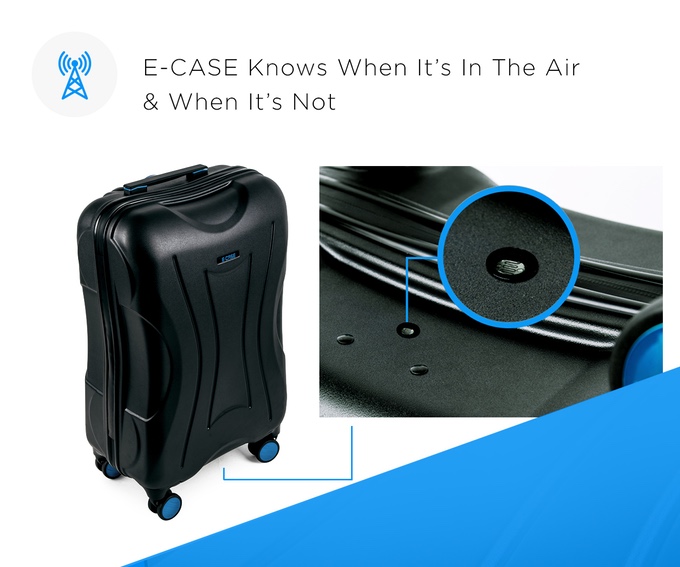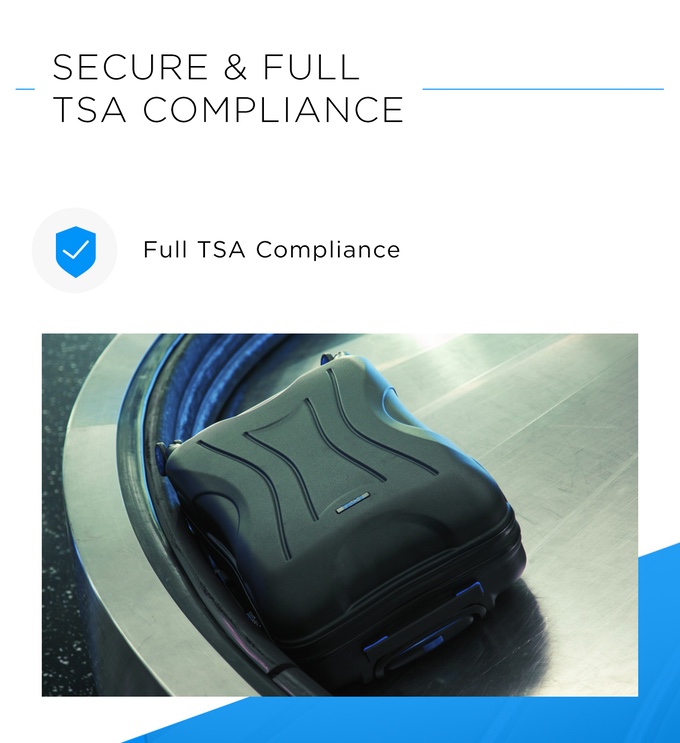 Every element of E-CASE has been designed to be fully compliant with the TSA and regulatory organizations worldwide. Whether you're checking in your E-CASE or taking it through security, you won't have any problems. We have tested E-CASE at check in and security on both local and international flights.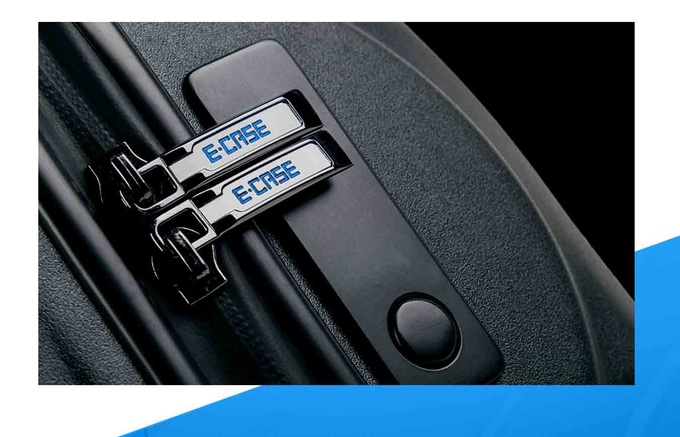 TSA standard locks have a major security issue, as anyone can download plans for a 3D printed master key from the internet. The E-CASE lock is the most secure on the market, and can be opened in three ways; via the mobile app, with your fingerprint, or from anywhere in the world via SMS. It will alert you if anyone attempts to tamper with it.



The E-CASE carry-on model has the largest (12,000mAh) power-bank of any smart luggage on the market.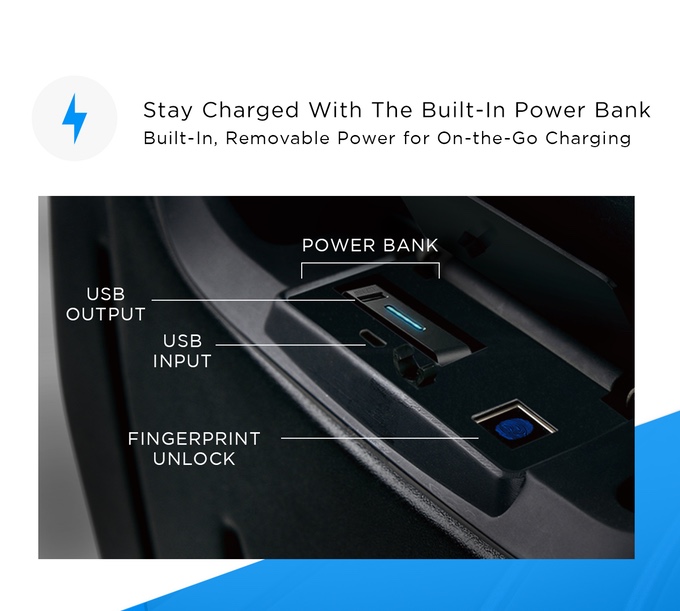 Brilliantly designed to be removable, eliminating possible issues with airline restrictions and offering the added convenience of charging your devices in your seat while your bag is in the overhead bin.
Keep your devices charged and ready to go.


Quick E-CASE Product Tour
GPS Test
Unlocking E-CASE
Inside case


Team experience:
• 20+ years manufacturing luggage for Samsonite, Titan, Delsey, Swiss Gear, etc.
• Engineering for Motorola, Qualcomm and Huawei
• Designing, manufacturing, and shipping product worldwide
E-CASE is manufactured in a factory that Lawrence, CEO and E-CASE co-founder, has owned and operated for over a decade.
We have all personally experienced the nightmares of bad travel experiences, lost luggage, overage fees, etc. Now we're on a mission to restore some of the fun back into travel... one smart bag at a time.
Our goal for E-CASE was to build the best smart luggage on the planet. We wanted our smart cases to be easy to use, affordable, and impossible to lose. We have been working on E-CASE since 2012. Now, with your help, E-CASE is finally ready for manufacturing.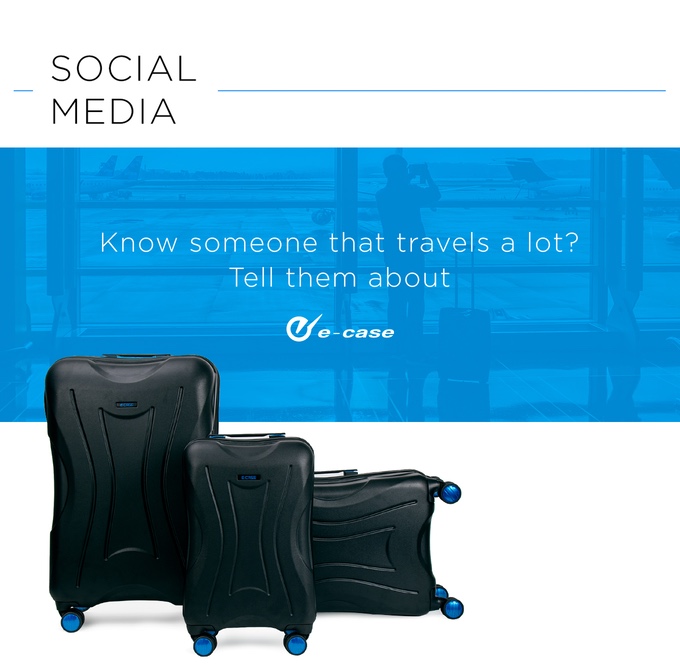 BUNDLE: 24" + CARRY-ON 20"
Price: XXX
Items included:
E-CASE Carry-On (20 in.)
E-CASE Checked (24 in.)
BUNDLE: 29" + CARRY-ON 20"
Price: XXX
Items included:
E-CASE Carry-On (20 in.)
E-CASE Checked (29 in.)
SUPER BUNDLE: All 3 SIZES
Price: XXX
Items included:
E-CASE Carry-On (20 in.)
E-CASE Checked (24 in.)
E-CASE Checked (29 in.)